Welcome to the Maverick Division, Marco Ellis!
Name: Marco Ellis
Height: 6ft 3 (190cm)
Weight: 161lbs (73kg)
Age: 33 (search approx 2004 for age appropriate pics)
Hometown: Tel Aviv, Israel
Nickname: Erebus
Manager: n/a
NCWA Accomplishments: To fill out when you win a title or major match.
Non-NWCA Accomplishments: Has your superstar/vixxen held titles in other companies?
NCWA Win-Draw-Loss Record: 2-0-1
Current NCWA Feud: Updates each time your character is in a feud.
Face, Heel, or Tweener: Heel
Style of Wrestling: Powerhouse/technical
Gimmick: Cunning/charming villain, army veteran
Finisher: Hades' Descent (RKO) , Djinn drop (elbow drop)
Appearance: Marco dresses similar to the Shield's style, with dusty brown coloured pants and top and with combat boots. He also wears elbow sleeves and gloves of the same colour. He wears his tags from his military service around his neck.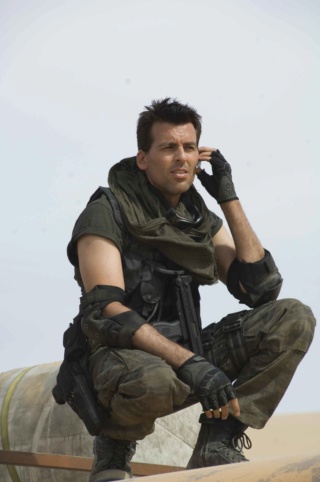 Entrance: 16 Volt's 'Useless people' plays, the lights slowly pulsing as the opening guitar riffs play, sounding almost like a warning siren. As the main guitar riff starts, Marco walks out onto the stage. If there are any soldiers in the crowd, he will pause to salute them, if not he'll walk down to the ring with a focused determination. He pauses on the steel steps, looking around at the crowd, either flashing a charming smile at a lady or an antagonising smirk at his opponent (or a male at ringside). He then raises a fist into the air before climbing into the ring.
Introduction Promo:
The sound of a jet is heard as the scene fades in, showing Marco sitting on a locker room bench, head down as he holds his dog tags in one hand. He is quiet for a moment, lost in thought. After a brief silence, he rests his hand on his knee, tags clutched safely in his fist. He lifts his head, raising an eyebrow at the camera. When he speaks, his voice is surprisingly soft and calm.
Marco: Loyalty can be a funny thing. Born in one country, raised in another, only to return to the first to serve in their military, but then return to the other to live a more...quiet life. *he lets out a single laugh* Well, here I am. This is certainly quieter than where I've been already, but I doubt it'll be short of excitement. *he smirks* Careful NCWA, I'm ready for a bit of 'fun' and you are 'it'.
He gives a look that shows he is actually serious and not treating the company as a joke, getting up and walking away as the scene ends.

Shea




Posts

: 184


Join date

: 2016-08-03



---
Permissions in this forum:
You
cannot
reply to topics in this forum