Name: Seth Johnson (simply Seth on screen)
Height: 6 ft 1 (approx 1.85m)
Weight: 157lbs (approx 71.2kg)
Age: 34
Hometown: Altona, Australia
Nickname: Seth has none, but he calls his manager 'Flash'
Manager: Egan Archer (real surname is Harper)
ICWA Accomplishments:
Non-IWCA Accomplishments: ROH tag team titles
ICWA Win-Draw-Loss Record: Starts at 0-0-0.
Current ICWA Feud:
Face, Heel, or Tweener: Face
Style of Wrestling: Technical, uses kickboxing
Gimmick: Laid-back, but won't back down when challenged. Can be a flirt.
Finisher: Ego Killer (hits to the body and head, followed by a jumping high knee)
Appearance: Sandy colored hair, confident smirk, brown eyes. His ring gear is fairly simple: white pants with a red waistband, red kneepads and boots. Wrist tape on both hands. Black elbow pads.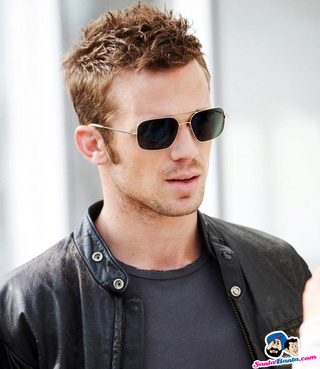 Entrance: Na Na Na by MCR. He pauses to pose on the stage, usually raising a fist, but will change the pose every now and then when Egan comes out with him (Egan spinning before posing, to help show off his flashy suit). They do the same in the ring.
Introduction Promo:
*The future is bulletproof
The aftermath is secondary
It's time to do it now and do it loud
Killjoys
Make some noise!*
'Na Na Na' by My Chemical Romance plays its loud guitar opening and two men make their way out onto the stage. The first is in red and white ring gear and pauses to raise a fist. The second, shorter man in a rainbow, iridescent suit and hat spins before posing with his hands on his hips. The two grin and nod at each other before heading down the ramp. The man in the suit reaches the end first and pauses at the end of the ramp, continuing up the stairs after the other pats him on the shoulder. The two pose again in the ring, before being handed microphones. The one in the suit is the first to speak.
Man: For the benefit of those with flash photography...
He smirks and the two men laugh before he speaks again.
Man: Okay, seriously now: They call me Egan Archer! *looking smug, he puts his free hand on his hip* And this here, is the newest man in the NCWA, simply known as Seth- *shouting over noise from the crowds* No! Not Rollins goddamnit! JUST. SETH.
Seth: *shaking his head at them* You'd think they'd never heard of people sharing a name before...
Egan: *sighs dramatically* Bloody hell. There's no hope for them if they can't get passed that. They should, with how many Chris based names there are in the business!
Seth: Jericho, Benoit...
Egan: Chris Masters, Chris Candido...
Both: CHRIStian.
Egan: So really, you'd think another Seth would be no problem.
Seth: *chuckles* Maybe we just got their hopes up.
Egan: Sorry! No amazing, brightly dressed manager with THAT Seth. I'm here to bring you former ROH Tag champion Seth, all the way from Australia!
Seth: Sure are! We may joke, but we're here for some serious business: helping sort out the big-headed blokes who think they're the best because of looks, or an inherited name.
Egan: But for now...
The two do indeed pose, in much the same way that WWE's Edge and Christian once did, grinning as the scene ends.  

Shea




Posts

: 184


Join date

: 2016-08-03



Welcome to the Young Lions Divison, Seth and Egan Archer!
---
Permissions in this forum:
You
cannot
reply to topics in this forum