Name: Becky Lynch (real name Rebecca Quin)
Height: 5ft 6 (approx 168cm)
Weight: 135lb (61kg)
Age: 30
Hometown: Dublin, Ireland
Nickname: Irish Lass Kicker
Manager: n/a
NCWA Accomplishments:
Non-NWCA Accomplishments: First WWE Smackdown Women's Champion
NCWA Win-Draw-Loss Record: Starts at 0-0-0.
Current NCWA Feud: Updates each time your character is in a feud.
Face, Heel, or Tweener: Face
Style of Wrestling: Technical/highflyer
Gimmick: Steampunk, lover of puns
Finisher: Dis-arm-her (kneeling Fujiwara armbar), Four-leg Clover (reverse figure-four leg lock)
Appearance: Varying types of Steampunk themed gear. Almost always with goggles on her head.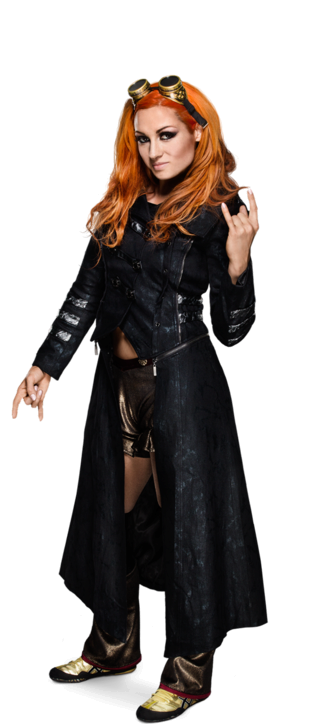 Entrance: Lindsey Stirling's 'Roundtable Rival'. Becky comes down from the rafters on a thick rope, as if dropping from an Airship. Onstage, she raises a hand to her forehead to look out at the crowd and two fireworks go off, like cannons. With a grin, she heads to the ring. She climbs the stairs and looks out again, hanging onto the post with one hand before climbing into the ring. She skips around for a bit before posing again and removing her goggles, and her coat if she's wearing it.
Introduction Promo:
There's a dog, chasing its tail. A pug. It's wearing a bronze coloured pair of goggle around its neck. It stops and sits, panting as it stares at the camera. After a moment, a woman is heard laughing. The camera is turned to face the firey haired woman, Becky Lynch. She also has goggles, though they're sitting on her head. She has a white tank top on, with a pug on it. She smirks.
Becky: Steam Pug. Get it?
She breaks out into laughter and the dog is heard barking off screen.
Becky: Now that I've got that outta my system... I have to announce I'll be getting some air time. Not in an Airship pirate way, unfortunately, but I'm sure this'll be pretty sweet. I mean- I'll get to blow off some steam after all. *she chuckles* Anyway. Looks like I might be coming over to the NCWA. And then, when I win, I'll have myself a Kraken cuppa tea. Get it?
She cracks up laughing again, pushing the camera away as she excuses herself.

Shea




Posts

: 184


Join date

: 2016-08-03



Welcome to the Queen's Division, Becky Lynch!
---
Permissions in this forum:
You
cannot
reply to topics in this forum